So it is Fashion Tuesday here on Kosherstreet and our regular Fashion Guru Michal K. is off having fun at a family wedding. So I decided am filling in today with one of my favorite fashion things I started on Kosherstreet with Sharon of Fashion-isha back in the very beginning.
Looks that you can get for less – Or what we like to call Chic on the Cheap.
Some of you might think I only know food – well I am a "closet" fashionista as well!
No really, I love great clothing and it is just like food, flowers, DIY tables and great home décor – another creative outlet for my artistic imaginative cravings. When I want to get "dressed" I love having fun with fashion and I see that my little Tunie B. has become a little fashion diva to!  I will be honest though, I save my gorgeous heels for events, business meetings, Shabbos/Yom Tov and date nights out  -because HEELs in the Kitchen – just NOT that cute!
When I was growing up clothing shopping was two times a year. My mother would take my sister and I  out of school for the day and we would spend the day at two stores –Bloomingdales and Barneys. My mother power shopped and got us (and herself) what we needed for the season. As a kid, I so did not appreciate this incredible day of shopping – hated the trying things on and other than missing school, thought the whole day was such a DRAG! Oh How I wish my mother would do that now with me!!!
Shopping at Bloomies and Barneys for your entire wardrobe, in this economy ,not always an option – so finding great Fashion on the cheap is one my favorite things to do when I need to get out-a the kitchen and the  original idea behind kosherstreet's
Tre's Chic Look on the Cheap:
Dress Coats are the best way to have fun with Fashion in the winter. Most times it is our outer wear that gets the most face time,  during these cold months. Wearing a gorgeous dress coat ,I find, is sometimes the best fashion decision when going out on weekends or when I want to look great doing my day to day errands. As you well know, a great coat dress has that extra perk of letting us be a little less fashionable on those days we are not such divas with what we are wearing underneath!
Coat on right: Modcloth.com
Back in the 40;s & 50's these women knew how to rock a gorgeous dress coat
Yesterday was Kate Middleton 30th Birthday , for the few months since her wedding she has really become a fashion icon for the classic and elegant sophisticated look. And really no one has ROCKED the Dress COAT LIKE SHE HAS!
Kate Middleton Military Style Dress Coat:  J Crew Military Style Coat: on SALE for  $239
or for an even cheaper and chic version : $142.99 DKNY Coat, Knit Trim Double Breasted Wool Blend at Macys.com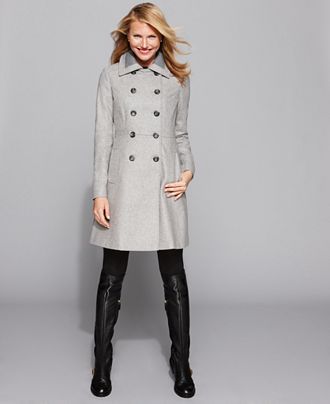 or if you are not a fan of the double breasted coat ( it can be too much for those of us who are blessed) here is a terrific single button military coat on sale at Kohls.com Chaps Wool Military Coat $112.05
Here is another one of my favorite of Kate's Dress Coat looks
I LOVE the POP of cranberry red COLOR!
Kate's Dress Coat: L.K. Bennett coat 
Wool blend coat in red, toffee, or black; L.K. Bennett for $440 at
lkbennett.com
.
Black Zip Boots: Stuart Weitzman! The knee-high suede "Zipkin" style features a 4½-inch heel and a graphite zipper that extends from the footbed to the top of the boot. The brand only offers this shoe in two places,  Russell & Bromley in the United Kingdom (where the Duchess bought them) and zappos.com. Shop the style, available in sizes 4 through 12, for $635
Tre's Chic Look on the Cheap:
A fantastic fun coat with a little flair on the bottom  – the perfect fun coat to brighten up those winter blues!
modcloth.com $179.00
But if you want something a little cheaper and a little muted here is another great alternative coat perfect for everyday errands
express.com  -  Wool Long Fit & Flare Coat ON SALE NOW for $99.00
For the boots I love these Tres Chic Look on the Cheap Finds:
famousfootwear.com ONLY  $55
ninewest.com only $90
and for those who really want to have some fashion fun – I love these zappos.com $119.99
I had such a great time putting this post together – I think it might be something I am going to do on a regular basis! What do you think  – are you loving these Tre's Chic Look on the Cheap?